Support and Donations
Any support you can give to the school is appreciated. Of greatest importance are monetary donations, but the school is also most happy to accept books to expand the library, computers and other learning materials. If you are interested in giving physical items, please contact Sr Shobha:


The school functions solely on donations. Some of these donations have come from India and some have come from outside India.
The school has Indian Government FCRA approval to receive funds from overseas. FCRA is the Foreign Contribution Regulation Act.
One hundred percent of donations made to the school go to the school. This is regardless of whether the donations are made in India, or to Christopher Titmuss' school account in the UK, to Felix Helg's account in Switzerland, to the Bodhgaya Development Association (BDA) in Australia, or to the One World Children's Fund (OWCF) in the US. All administration costs, like the costs of this website, and other fundraising costs are personal donations by fundraisers. For the BDA and the OWCF, please specify Prajna Vihar School when making donations.
---
India

Donations can be given by Indian nationals living in India. For details please email:

---
Australia

The Bodhgaya Development Association has been supporting the school for over twenty years and accepts cheques and funds transfers.

Specify you'd like donations to go to the Prajna Vihar School.This website has information and photos of the school from the early 1990s to the present. It also has a detailed annual newsletter.
---
Switzerland

Felix Helg has also been a supporter of the school from the early 1990s. Send cheques or money orders to:

Schule Bodhgaya, c/- Felix Helg
Speicherstrasse 37
CH - 8500 Frauenfeld
Switzerland

or a funds transfer to:
Schule Bodhgaya
Felix Helg, 8500 Frauenfeld
Konto: 85-1911-4
Switzerland

Email for Felix Helg: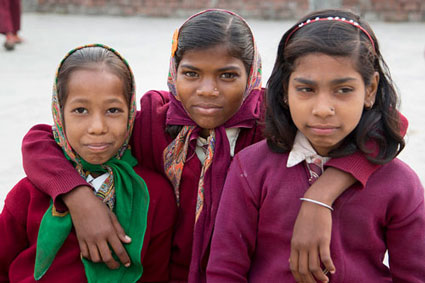 ---
UK

Christopher Titmuss has supported the school since the beginning. His PV School webpage is here. A funds transfer can be made to

Pragya Vihar School
Account number 94580049
Sort Code 60 21 48
National Westminster Bank
9 Fore Street
Totnes
Devon, TQ9 5DB
England

Cheques can be sent made out to Pragya Vihar School (alternative school name spelling) and sent to

Christopher Titmuss
7 Denys Road Totnes
Devon TQ9 5TJ England

A Paypal donation can also be made. Keep in mind that there is a cost to Paypal donations.

Email for Christopher Titmuss:

---
USA

One World Children's Fund

Donations using this fund are generally tax-deductible in the US. The Prajna Vihar School is supported by Shaila Catherine and the Insight Meditation South Bay community, through the One World Children's Fund. Make sure you are on the Prajna Vihar School page so donations will go to the school.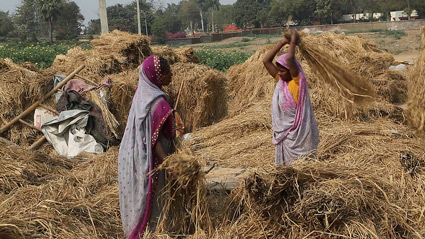 Women threshing rice near the Prajna Vihar school